Responsible Banking For Board Members And Executives
Executive
8-10 Hours
Online
£380
About the Course
Responsible Banking for Board Members and Executives has been designed for those working at the higher levels of the banking world. Those with the power to make high-impact decisions hold a unique position in our collective journey towards responsible banking on a global scale.
Having been tailored specifically to those in senior banking roles, this course will teach learners how to incorporate the Principles for Responsible Banking  in their day-to-day decision-making.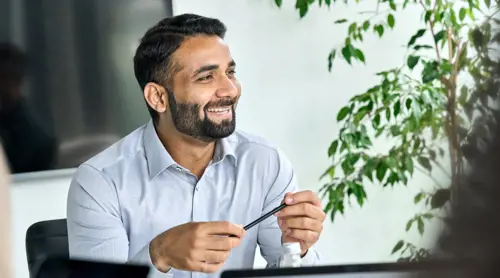 Course Details and Modules
The aim of this course is to develop, at an executive level, your knowledge and understanding of the Principles for Responsible Banking (PRB) and the UN Sustainable Development Goals (SDGs) so that you have the knowledge and insight you need to hold credible and informed conversations on the impact, risks and opportunities that arise as you consider environmental, social and governance issues, from the PRB and SDGs.
The course is also designed to:
raise your awareness of key questions to ask in order to critically evaluate and challenge existing business strategies;
enhance your understanding of key facets to consider when conducting impact analysis using a risk-based approach; and
help you to lead and facilitate the embedding of responsible banking at the very heart of your organisation.
The key objective is to encourage you to think about:
the 'bigger picture' and the critical role that banks play in advancing sustainability, noting the influence of key externalities;
potential conflicts with your bank's existing activities and the gap between reality and aspiration, so that you can see 'over the horizon' and define the action needed to move closer towards your vision;
how you can approach strategic analysis with a risk-led mindset, develop and enhance your strategic plans in line with the Principles for Responsible Banking and the UN Sustainable Development Goals, and how you can drive the case for change, implement strategy, and adapt your bank's operations accordingly.
Responsible Banking for Board Members and Executives consists of five units:
Contemporary Strategic Influences on Banking
Aligning Finance with the UN Sustainable Development Goals and the Paris Agreement
Incorporating Sustainability and Responsible Banking in Corporate Strategy
Science and Risk-based Approaches to Evaluating Strategy
Taking Action
Learning Outcomes
On completion of this course, you will be able to:
identify and analyse contemporary strategic influences on banking
examine the role of a range of key players and policy and regulatory frameworks, including the framework for the Principles for Responsible Banking, in aligning banking and finance with the UN Sustainable Development Goals and the Paris Agreement
critically evaluate how responsible banking can be incorporated in corporate strategies, policies and procedures, both within the bank and its customer base
analyse a balance of science and risk-based approaches to evaluating the effectiveness of responsible banking in corporate strategies
create a plan for aligning your own and your bank's professional practice with sustainability and for embedding a culture of responsible banking throughout your organisation.
What learning resources are available?
Your learning resources will include:
interactive eLearning content
case studies
videos of fellow executives from banks across the globe sharing their experience and expertise in implementing and embedding the Principles for Responsible Banking framework and incorporating sustainability into their bank's strategy
videos of industry experts sharing their knowledge to enhance your understanding of climate and sustainability risks, and the analysis of associated data
opportunities to reflect on and capture your thoughts about where you are in your own bank's sustainability journey, and create an action plan that will move you further towards achieving your vision for supporting the transition to a low-carbon world and attainment of the goals that we as a society have set for ourselves, as articulated in the UN Sustainable Development Goals and the Paris Agreement.
Certification
Upon completing this course, the user will be awarded a digital badge.
Our courses are designed to help banks and bankers implement the UN Principles for Responsible Banking